Exhibition
CMTK (Chihiro Mori & Teppei Kaneuji)
Meeting Point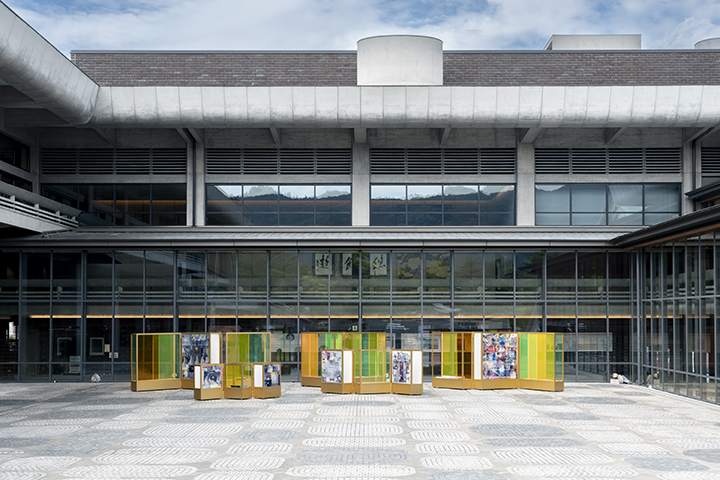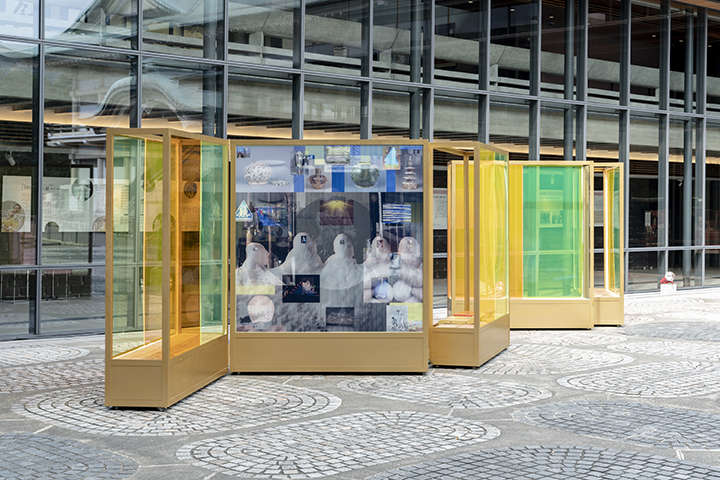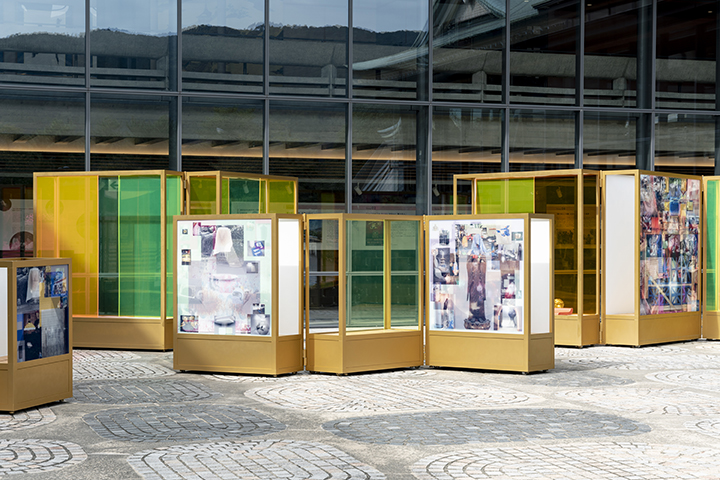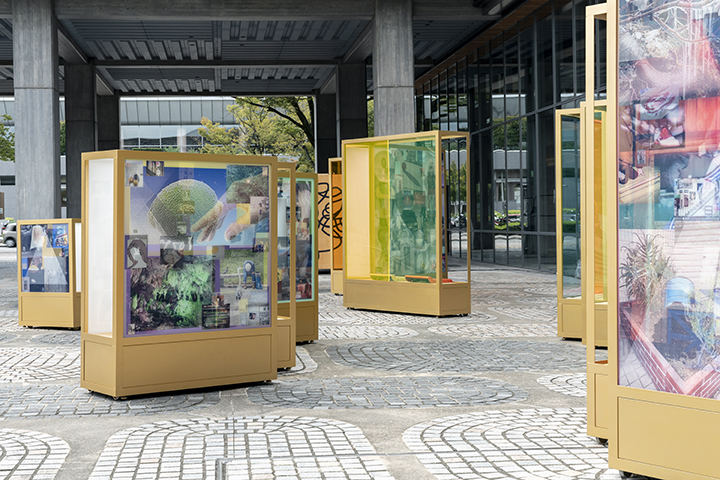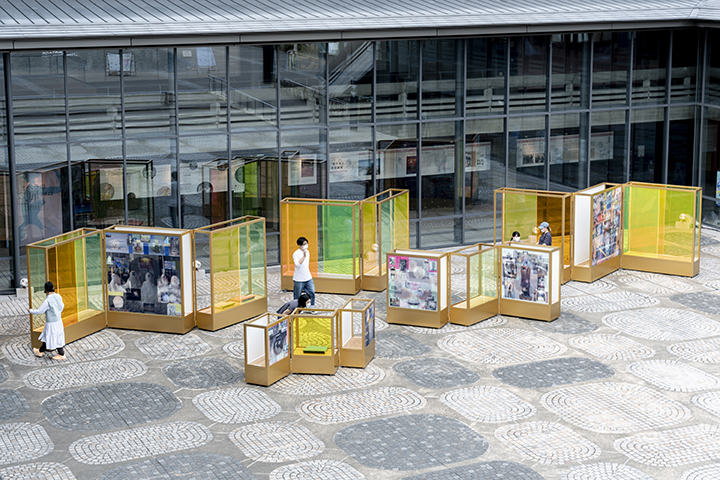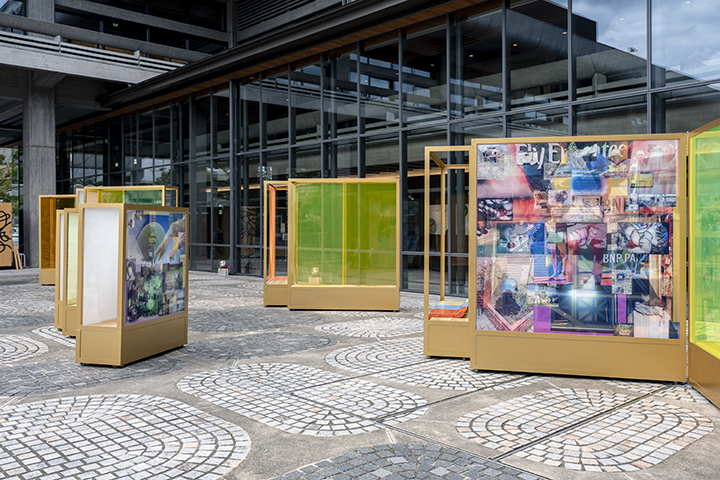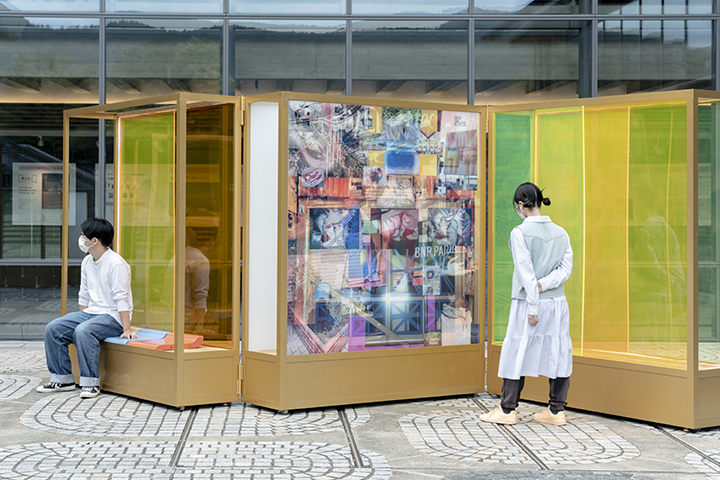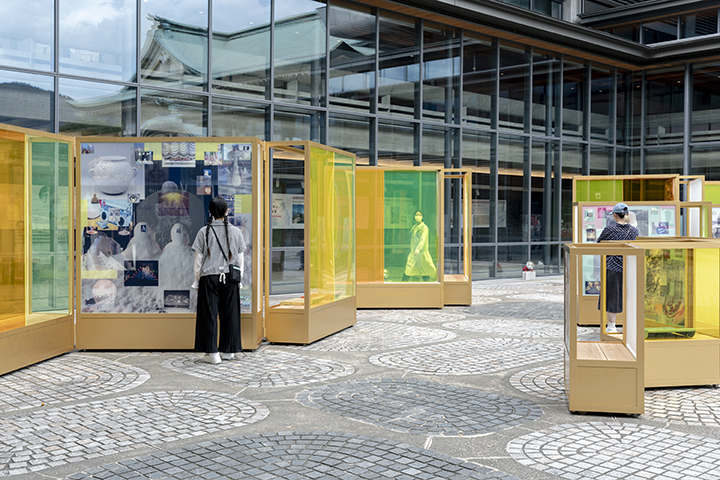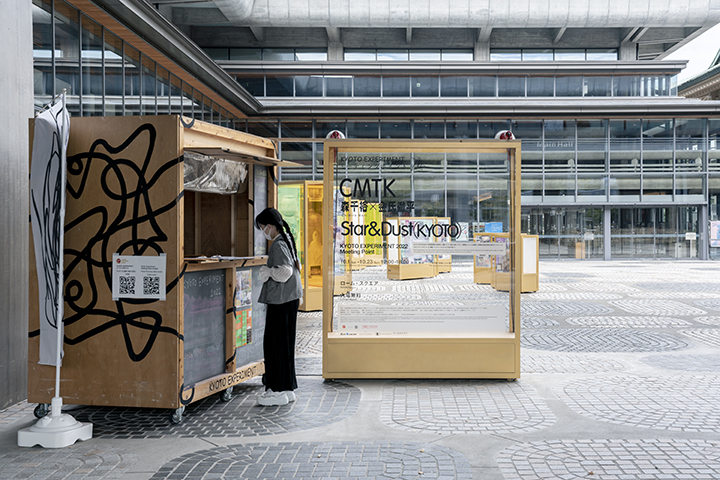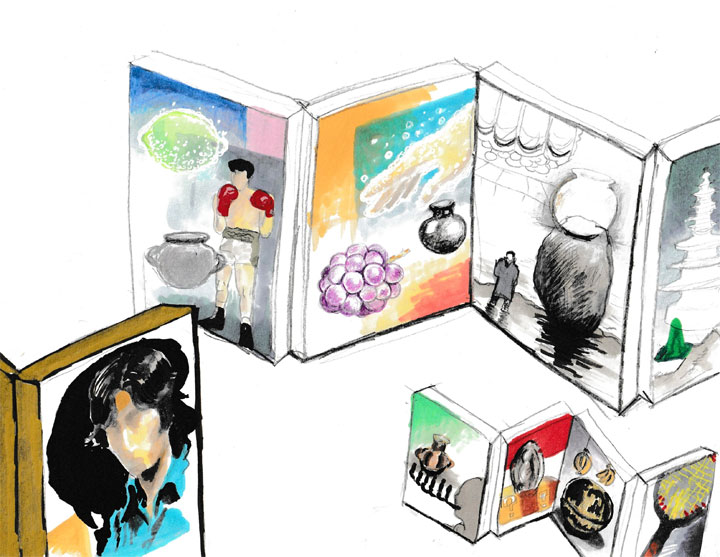 There's joy in discovery
You're always lost at first
The Meeting Point, a place for communication between audiences and the festival, can be found at ROHM Square for the duration of the festival. This year the artist duo "CMTK (Chihiro Mori x Teppei Kaneuji)" are turning the Meeting Point into an installation work using a large-scale lenticular printer*.
Mori's works incorporate fragments of images which she collects through observing cities from her own unique perspective, while Kaneuji uses collage techniques to create artwork and sculptures by using commonplace objects. These two artists explore new forms of expression through a myriad of contexts, and in this work, they create a folding screen that continually evolves––a labyrinth of walls that bewilders the viewer. The space is transformed by this work, and in order to see the image, the viewer must also constantly change their position and perspective.
On weekends throughout the festival, there will be workshops, talks, and various other events that can be enjoyed by children and adults alike. The site also has a Festival Box where there are Community Radio broadcasts and staff to introduce visitors to the programs (for visitors who are not sure where to start, this is the place to go!).
*A printing technique that uses a lenticular lens to make images appear three-dimensional, or as if they're changing or moving, depending on the angle from which they are viewed.
Event Information
On weekends during the festival period there will be various events including talks, workshops and rakugo performances (a traditional Japanese art of comic storytelling) that can be enjoyed by both children and adults.(Please note there may be a change in venue or the event may be canceled due to weather conditions.) 
Date: October 2nd (Sun) 12:30-14:00
Fee: Free
Target Age: 5 years old to elementary school age (preschool age children must participate with a parent or guardian)
Capacity: 10 people (first come, first served)
Please reserve through the application form.
https://forms.gle/623Y3J4xCfqWT3NG8

Rakugo (a traditional Japanese art of comic storytelling) at the Meeting Point
Participation free, no reservation required
① October 8th (Sat) 14:00-15:00 Performer: Niyo Katsura
② October 10th (Mon, public holiday) 16:30-17:00 Performer: Kyoto Actor Rakugo Association [Kyoto Yakusha Rakugo no Kai]
③ October 15th (Sat) 14:00-14:30 Performer: Kyoto Actor Rakugo Association [Kyoto Yakusha Rakugo no Kai]
Niyo Katsura
While preserving and performing classic rakugo, in which the time-honored Osaka dialect is still alive and well, Katsura vividly portrays the lives of the charming and resilient people of the Kamigata region with a new and modern sensibility. Since starting as an apprentice in 2011 she has fought to overturn the accepted opinion that it is difficult for women to perform classical rakugo, and in 2021 she became the first woman to win the Grand Prize at the NHK Newcomer Rakugo Awards. She continues to fight for change in the rakugo world, a classical art form that has been around for about 300 years.
Kyoto Actor Rakugo Association [Kyoto Yakusha Rakugo no Kai]
Founded in 2001 for a New Year's Yose (an entertainment hall and form of spoken theater) organized by Atelier Gekiken, a small theater mecca in Shimogamo, Kyoto. Named Kyoto Actor Rakugo Association [Kyoto Yakusha Rakugo no Kai] since 2004, the performers themselves have continued to plan and organize various events. The association has planned and managed the New Year Gekiken Yose, Gochome Yose and Rissei Yose among others. The members are diverse, ranging from actors in morning TV dramas to performers active internationally (current members are Hideaki Okajima, Yasunori Kiriyama, Daisuke Fujiwara, Daigaku Futakuchi, and Eddie B. Atchaman). Enjoy the powerful performances of these veteran actors with unique acting skills!
Community Radio
Streamed live from the Kyoto Experiment Instagram account (@kyotoexperiment) from 12:30 every Thursday. (Free, no reservation required)
10.1 (Sat)-10.23 (Sun)
12:00-18:00 (Closed on Tuesdays and Wednesdays)
(10/1, 2, 8, 15, 16, 21, 22, 23 ☞ 12:00-21:30)

The venue will be closed temporarily in case of rain.
CMTK (Chihiro Mori & Teppei Kaneuji)
Kyoto
An art unit composed of Chihiro Mori, who creates artworks by incorporating various visual fragments found through her unique perspective of urban observation, and Teppei Kaneuji, who creates artworks using a collage technique that displaces existing contexts by cutting out parts and joining them together using everyday objects as materials. The pair work collaboratively, freely combining media and images while moving back and forth between distant spaces, times, and contexts. The photographs of streets, landscapes, and TV screens that Mori has been taking on a daily basis for many years capture the beauty and light of things and situations that pass in a moment or are perhaps treated like trash, or can be seen to be like portals to another world. The process begins with Kaneuji editing, collaborating, and connecting these photos to various materials. From here new images that move between the real and the unreal are created, a complex mixture of multiple disconnections and connections through multiple gazes. They have participated in Art Collaboration Kyoto (2021) and Yambaru Art Festival (Okinawa, 2021).
Chihiro Mori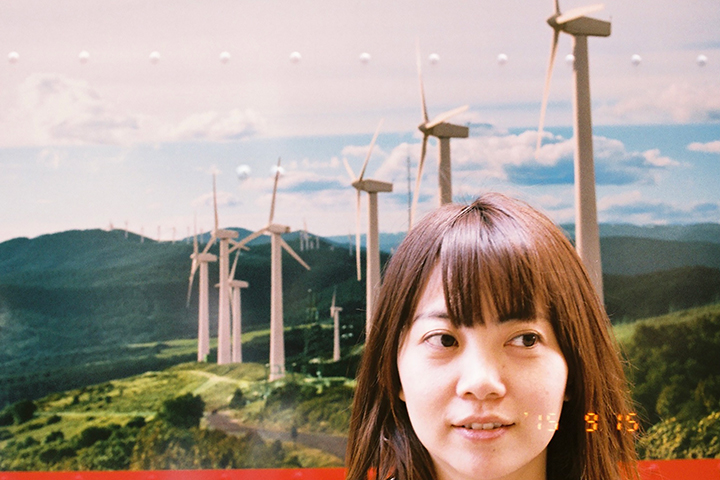 Born in Osaka and based in Kyoto, Mori graduated in Painting from the Kyoto City University of Arts. She creates artworks by incorporating various visual fragments found through her unique perspective of urban observation using a variety of techniques including painting, drawing, sculpture, animation, photography, and installation. Her work is both anarchic and human, disturbing and beautiful, raw and funny. In 2017 she held her first solo exhibition omoide in my head (Toyota Municipal Museum of Art). Previous exhibitions include Vong Co RAHZI (blum & poe, Tokyo, 2019), Who opens up the world? (Toyota Municipal Museum of Art, 2019), Weavers of Worlds: A Century of Flux in Japanese Modern / Contemporary Art (Museum of Contemporary Art Tokyo, 2019), CHILDHOOD Another banana day for the dream-fish (Palais de Tokyo, Paris, 2018), In Focus: Contemporary Japan (Minneapolis Institute of Art, 2018). In 2019, she was selected as one of the designers for the Tokyo 2020 Paralympic Official Art Poster.
Teppei Kaneuji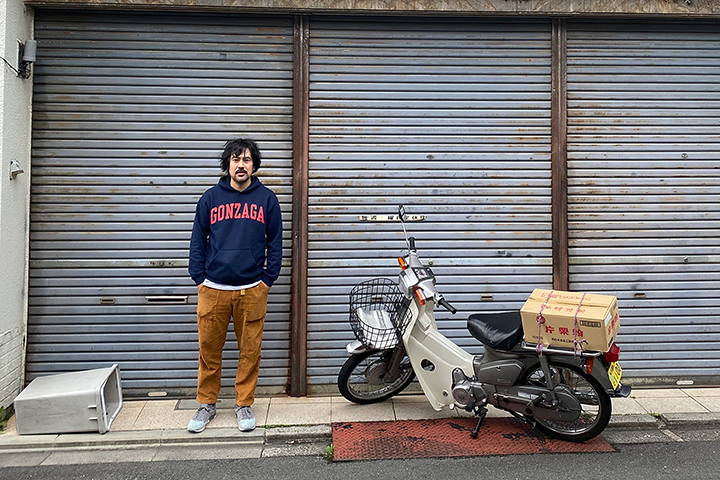 Born in 1978, Teppei Kaneuji is an artist and sculptor who lives and works in Kyoto. He earned a graduate degree in Sculpture from the Kyoto City University of Arts in 2003, where he now teaches as the Associate Professor. Kaneuji collects everyday objects and creates works using a collage method. His works take a wide variety of forms including sculpture, painting, video, and photography, and he consistently seeks to devise a form that reveals different relationships between materials and images. Major solo exhibitions include Towering Something (UCCA Center for Contemporary Art, Beijing, 2013), Cubed Liquid, Metallic Memory (Kyoto Arts Center, 2014), Teppei Kaneuji's Mercator Membrane (Marugame Genichiro-Inokuma Museum of Contemporary Art, 2016) and Eraser Forest (21st Century Museum of Modern Art, Kanazawa, 2020). He created the stage design for chelfitsch & Teppei Kaneuji's Eraser Mountain (Kyoto Experiment 2019) and also directed tower (THEATER) (Kyoto Experiment 2017), a stage adaptation of his own video work.
Venue Design & Construction: dot architects
Sponsored by SunM Color CO., LTD, GRAND MARBLE
In co-operation with Atelier Tuareg, Kataoka Structural Design Department,Kyoto Media Support Center, Saio-ji Temple, Rokuharamitsu-ji Temple, Gallery PARC
Images courtesy of Kyoto National Museum
Assistance from Kyoto City Tourism Association
Presented by Kyoto Experiment

Supported by the Agency for Cultural Affairs, Government of Japan, through the Japan Arts Council, Fiscal Year 2022 
Kyoto Experiment Meeting Point Project: A Community Space Utilizing Kyoto's Cultural Resources